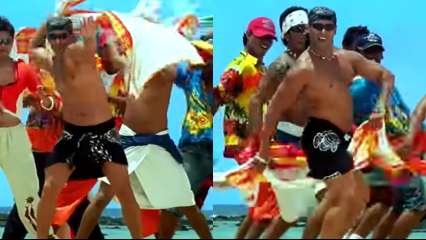 Who doesn't remember Salman Khan's legendary 'Jeene Ke Hain Char Din' step? It turns out that someone also remembers the towel that was used.
Salman's iconic towel was sold for Rs 1.42 lakh at a charitable auction, according to a report making the rounds on the internet. We'd heard about famous clothes, accessories, and other items being auctioned before, but a towel garnering a bid of Rs 1.42 lakh is undoubtedly a first in celebrity auction history.
The song was taken from the film 'Mujhse Shaadi Karogi.' Produced by Sajid Nadiadwala and directed by David Dhawan. Salman Khan, Priyanka Chopra, and Akshay Kumar star in the film, which is Kumar and Chopra's second collaboration after the success of Andaaz (2003). Amrish Puri, Kader Khan, Satish Shah, and Rajpal Yadav are among the supporting cast members. 'Mujhse Shaadi Karogi,' which is set mostly in Goa, depicts the exploits of two men who are attempting to capture the heart of a woman.
'Mujhse Shaadi Karogi' opened to positive reviews on July 30, 2004, with appreciation for its directing, performances, soundtrack, cinematography, art direction, costumes, and styling. The film was a commercial success, generating $565 million at the box office, making it the third-highest-grossing Indian film of the year. Three Filmfare Awards were nominated for 'Mujhse Shaadi Karogi.'
There are eight tracks on the soundtrack album, seven of which are originals and one of which is a remix. Sajid–Wajid composed six songs, while Anu Malik composed the seventh. Jalees Sherwani wrote the lyrics for five tracks, while Sameer and Arun Bhairav each wrote one song. Udit Narayan, Alka Yagnik, Sonu Nigam, Sunidhi Chauhan, Sukhwinder Singh, and Shabab Sabri provided vocals. The album was published on June 4, 2004, with a background score by Salim-Sulaiman.