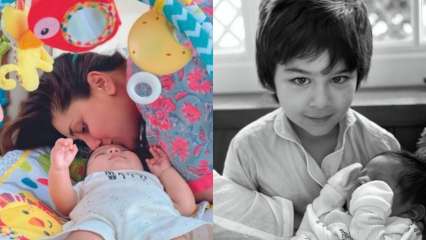 Kareena Kapoor Khan and Saif Ali Khan welcomed their second child, son Jeh on February 21 this year. Since his birth, the couple's fans have been eager to get a glimpse of Jeh, whose name was only recently disclosed to the world. Kareena had earlier shared a photo of her elder son Taimur holding Jeh, however, his face was obscured.
Now, a fan page of Kareena Kapoor has shared a photo of Jeh and it has gone viral on social media. In the photo, the actress can be seen kissing her adorable little munchkin on the forehead as he sleeps in the baby bed. The picture seems to be from Kareena's recently launched book, 'Pregnancy Bible' with her note of dedication, "To the most handsome men in my life, my strength, my world – Saifu, Taimur and Jeh."
Have a look at the post here:
On the occasion of Mother's Day 2021, Kareena had shared a black and white photo of Taimur holding Jeh in his arms. The picture was clicked in such a way the Jeh's face was not visible in the photo.
It was only last week that Randhir Kapoor confirmed that Kareena and Saif's younger son has been named Jeh. When asked about when was the name finalised, Randhir replied, "We finalised it about a week ago."
Recently, Kareena Kapoor Khan released her book 'Pregnancy Bible', which according to her "is like my third child…from conception to its birth today."
She said, "This has been quite the journey… both my pregnancies and writing my Pregnancy Bible. There were good days and bad days; some days I was raring to go to work and others where I struggled to get out of bed. This book is a very personal account of what I experienced both physically and emotionally through both my pregnancies."
On Wednesday (July 15), Kareena found herself in trouble as a Christian group file a police complaint against her and two other for hurting the religious sentiments of their community. The group objected to the use of the holy word 'Bible' in the title of the book.