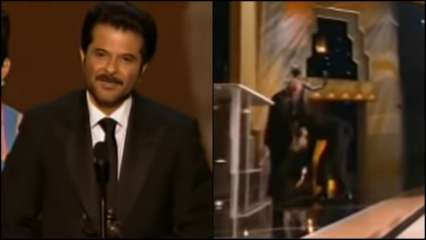 At the Screen Actors Guild (SAG) Awards held in 2009, Slumdog Millionaire won Outstanding Performance by a Cast in a Motion Picture. The award was presented by Sir Anthony Hopkins and received by Anil Kapoor, Irrfan Khan, Dev Patel and Freida Pinto on behalf of Rubina Ali, Tanay Hemant Chheda, Ashutosh Lobo Gajiwala, Azharuddin Mohammed Ismail, Ayush Mahesh Khedekar, Tanvi Ganesh Lonkar and Madhur Mittal.
Anil took to his Instagram page and shared the video of the award-winning moment. In the video, the actor jumped with excitement and rushed to the stage to receive it from Hopkins. Moreover, an emotional Anil even touched the Oscar-winning actor's feet while receiving the award from him.
In his speech, Kapoor said, "Well, it was overwhelming enough to be nominated but to win this is unbelievable. It's unbelievable. Our gratitude to the genius Danny Boyle."
He also praises the child actors of the film and added, "How can I forget the children? They deserve this award. They have set our performances. It's the children who have done this, not us. This is on their behalf."
While sharing the video, Anil captioned it as "Throwback Video. I don't usually get breathless…but moments like these are special exceptions! #Throwback to meeting Sir @anthonyhopkins during the @sagawards! What a player!! #Father #Oscar2021 #Throwbackvideo @sagawards #DevPatel #IrrfanKhan @freidapinto."
Meanwhile, Slumdog Millionaire won eight Academy Awards that year including Best Picture, Best Director, Best Adapted Screenplay, Best Cinematography, Best Film Editing, Best Original Score, Best Original Song and Best Sound Mixing.