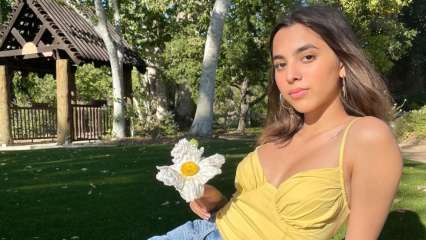 Anurag Kashyap's daughter Aaliyah Kashyap runs a YouTube channel with a fan following of around 63k subscribers. She is pursuing her studies in the US. Aaliyah is currently in Mumbai with her family, accompanying her is her boyfriend Shane Gregoire.
Recently, in a video posted by Avanti Nagral, the two were talking about 'their firsts' to which Aaliyah recalled her first kiss.
She said, I was 14 and it was the worst thing ever. Because of me. Like, I just ran away after, cause I was so shy. I left him and ran away,"
Aaliyah also talked about her first-ever concert. She said, "I was really young and I had gone with my dad's wife at the time, Kalki, and I forced her. Poor woman had to sit there while I was dancing to Pitbull music and she was miserable,".
Talking about her first boyfriend she said, "It was my first boyfriend and I was like, 13. I remember my best friend at the time was also dating my boyfriend's best friend. So, we decided to do a double date at Starbucks. So, we had talking points, and we went there, and the whole time it was just me and my best friend talking and those two guys talking. And two of our friends wore black hoodies and came to stalk our date,".
For the unversed, Aaliyah also made a video asking her dad about unplanned pregnancy a while back. To which Sr. Kashyap's answer was, I will ask you, 'Are you sure you want this?' And whatever you choose to do, I will always go with it, you know that." He said that he would accept her choices in life but tell her that there is a price to be paid for every decision.