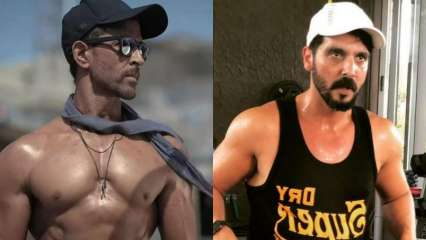 It seems actor Hrithik Roshan plays a pivotal role behind actor Zayed Khan's fit body. The latter who has been working really hard on his fitness of late recently took to social media to share a picture of his pumped-up physique and thank his mentor 'Hrithik Roshan', for motivating him to push the boundaries and achieve the impossible. 
On Sunday, Zayed took to Instagram and shared his post-workout picture. Along with it, he penned a lengthy post imparting his words of wisdom. "The Sun will shine again. So don't give in, don't sell out, perceiver. For Pain will only cleanse. Sometimes it's unbearable I know, I feel that too. And sometimes it's just not worth going through. But remember god tests those more, who can handle pain, and come out on the other side stronger, braver more resilient. "Truth is that we will never have all the answers and the irony is we never really had to. It's time we forgive each other and ourselves. It's time we become warriors not parasites !!! I know this couple of years has been tough on all of us but our country needs us more then ever. We must pick ourselves up, dust ourselves off and move forward together. Hand in hand, shoulder to shoulder and believe that good exists," he wrote.
Zayed even thanked Hrithik for always motivating him."Trust me my friends it does we just have to give it an honest chance, and I'm sure we will, you will, and everyone will. Big shout out to brother.. I take great pride in saying is my mentor @hrithikroshan thank you ! Just keep moving forward," he concluded.
Zayed's dramatic physical transformation caught the attention of social media users. Apart from his followers on Instagram, several of his celebrity friends too appreciated him for working hard towards getting fitter. 
Reacting to the image, Sussanne Khan commented: "Looking fab." "Well done. Proud of you brother, " actor Rohit Roy wrote.
Take a look at Zayed's photo here:
Meanwhile, Zayed Khan, on Monday, turned a year older, and interestingly, he penned a special post for his wife Malaika on his birthday.
"I dedicate this day, my birthday to my wife Malaika for standing with me through thick and thin. For taming the beast, for loving that person inside me that I had lost touch with. For patiently handling my tantrums," he wrote. "For Never giving up on me even though I gave up on myself. For showing me the true power of a good woman. For holding my hand even when darkness was all around and pulling me out of it. For reminding me who I was. For believing that the Power of Love can change even the grimmest circumstances. For reminding that 'money talks but wealth whispers'," he added.
Zayed also urged everyone to shower the women in their lives with loads of love always. "I urge all you people to take a look left and right and go give a hug to that woman in your life be it you mother, sister, wife, daughter, grandmother … and who have made a difference in your life for the better, just go and give them a tight hug. And in that hug express your gratitude and receive the power of their blessings," he wrote. "This Power is invisible but just the fuel you need to conquer any adversity! Thank you Malaika Khan. To me your the most beautiful girl in this world and I love you more than you can ever imagine," he concluded. Along with it, he posted an adorable selfie with his wife. 
Take a look at the post here:
Speaking of Zayed's work projects, he made his acting debut with the 2003 film 'Chura Liyaa Hai Tumne' and later gained fame with his roles in 'Main Hoon Na', 'Shabd' and 'Dus'. He was last seen on the TV show 'Haasil'.