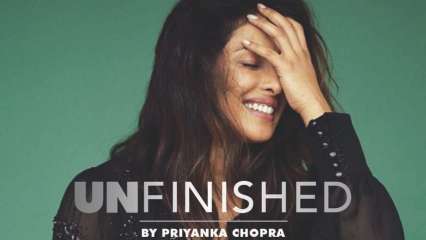 Global icon and former beauty queen Priyanka Chopra's memoir 'Unfinished'  received mixed reactions from fans and industry insiders when it was launched earlier this year. A tell-all about Priyanka Chopra's life, the memoir chronicles Priyanka's journey from her childhood days growing up in India and the US, becoming Miss World, a Bollywood actress and then a Hollywood star. Her book received mixed reactions because even though it narrated the not-so-pleasant incidents that she encountered while making it on her own in the Hindi film industry, Priyanka chose not to drop any names. 
So, when the international star was recently asked if she was ever tempted to reveal people's identities in the book, Priyanka denied saying the book and the story were about her and not others. Priyanka also added that she believes in grace and a lot of media doesn't while taking a dig at the press. 
"It is no one else's story but mine. It says Priyanka's Memoir, right, so my story. It's actually really funny. I read a few reviews that said that 'oh it wasn't, she didn't speak the truth about things like that.' I was like, 'oh so basically you wanted a gossip brag in my book. You wanted it to be a tell-all.' I'm not Stardust," Priyanka said at a literary event recently, as quoted by Hindustan Times. 
"That's the thing, I'm really grateful that my book is a no. 1 bestseller around the world without it being salacious because I don't respond to that; I'm not that person. I believe in having grace. And a lot of the media doesn't," Priyanka added. 
For the unversed, Priyanka's memoir 'Unfinished' did chronicle some unfortunate incidents that she had to encounter while starting off as an actress in Bollywood. One of the many incidents that hit headlines when the book was launched was about a director who had suggested that Priyanka should get a boob job, fix her jaw, and add a little more cushioning to her butt. He also suggested that she should get her 'proportions fixed' in order to make it in the industry. 
Currently, on the work front, Priyanka Chopra has a line-up of projects in her kitty including 'Text For You', 'Citadel', 'The Matrix Resurrections' and 'Jee Le Zaraa'.