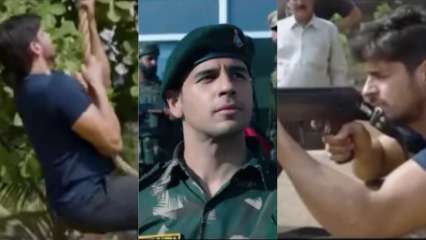 Adapting a real-life inspirational story on the big screen always takes a herculean effort by the cast and crew. And when it comes to playing the role of the protagonist, the lead actor always has his work cut out. Amazon Prime Video today released the BTS video from their upcoming film 'Shershaah' based on the inspiring true story of Captain Vikram Batra (PVC). 
The video takes a deep dive into the real-to-reel transformation for Sidharth Malhotra and the entire team of the upcoming film. Be it visiting the Batra family in getting to know the legend better, the intensive army training, hearing fascinating anecdotes, and being trained by Colonel Sanjeev Jamwal, who was posted with Captain Vikram Batra, Siddharth had to pick up each character trait and follow it to the T. It was blood, sweat & tears that went into making 'Shershaah' roar and the wait to witness this epic movie is just a few days away.
Directed by Vishnu Varadhan, 'Shershaah' is inspired by the life of Captain Vikram Batra (PVC) and stars Sidharth Malhotra and Kiara Advani in the lead along with Shiv Panditt, Raj Arjun, Pranay Pachauri, Himanshu Ashok Malhotra, Nikitin Dheer, Anil Charanjeett, Sahil Vaid, Shataf Figar, and Pawan Chopra in pivotal roles. 
On the occasion of Kargil Vijay Diwas, the team of 'Shershaah' flew to Kargil to launch the trailer of 'Shershaah'. While sharing the trailer on his Instagram, Sidharth Malhotra wrote, "Shershaah trailer Captain Vikram Batra reporting on duty! The wait is finally over, I'm honoured to present to you the legendary story of our Kargil War Hero."
Jointly produced by Dharma Productions and Kaash Entertainment, Shershaah will premiere across 240 countries and territories on 12th August 2021 exclusively on Amazon Prime Video.