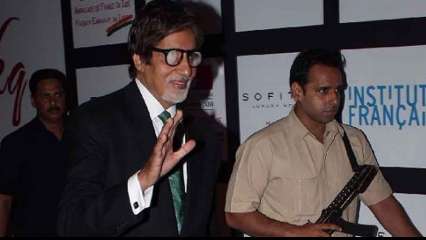 Bollywood megastar Amitabh Bachchan has a huge fan following and wherever he goes thousands of fans come to get a glimpse of him. A person named Jitendra Shinde becomes active as soon as Amitabh Bachchan steps out of his house. This man is seen in almost every picture with Amitabh Bachchan. let's know more about Jitendra Shinde, who lives like a shadow with Big B.
Jitendra Shinde is the personal bodyguard of Amitabh Bachchan and he takes care of Amitabh Bachchan's security in India as well as abroad. Shinde remains like a shadow with Amitabh Bachchan from film shooting to KCB sets. Jitendra Shinde has his own security agency but he himself protects the mgastar. According to a report in Times Now, Amitabh Bachchan pays him a salary of Rs 1.5 crore annually which is more than the salary of CEOs of many private companies in the country.
Well-known American actor and producer Elijah Wood was also provided security during India tour by Shinde. It is learnt that Big B had asked Shinde to provide security to Wood. Shine is providing security to Amitabh Bachchan for many years.
Bollywood star Anushka Sharma too has a personal bodyguard, Sonu, who has been by her side for yeaers now. Anushka Sharma pays a very fat salary to Prakash Singh aka Sonu for his services.