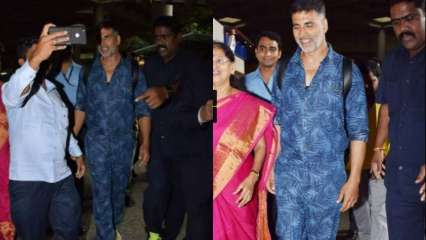 Bollywood superstar Akshay Kumar has a huge fan following and wherever Akshay goes thousands of fans come to get a glimpse of the 'Khiladi' Kumar. A person named Shreysay Thele can be seen with Akshay Kumar every time he steps out of his house. Shreysay, who is the personal bodyguard of Akshay Kumar, is seen in almost every picture with the actor.
Besides providing security to Akshay Kumar, Shreysay Thele has also been seen shielding Kumar's son Aarav every now and then. Accoridng to a leading portal, Akshay Kumar pays his bodyguard Rs 1.2 crore annually.
Meanwhile, just like Akshay Kumar, Salman Khan also has a personal bodyguard and he is pretty famous, Shera is with Salman Khan for 27 years and counting.Shera won a Mr Mumbai junior title for 'bodybuilding competition' in 1987 and finished second as Mr Maharashtra junior in 1988. Before becoming Salman Khan's full-time personal bodyguard, Shera had earlier been part of security for several international celebrities like Michael Jackson, Will Smith, Paris Hilton and Jackie Chan when they visited the country. 
Shera told YouTube channel ViralBollywood in Hindi last year, about his first meeting with Salman Khan. He said, "We first met when I was handling security for Whigfield's show. She's a Hollywood singer, she'd come down. I met Salman again when Keanu Reeves, the Hollywood hero, had come to India. Speed had released and Matrix was about to release. I did my first show with Salman in Chandigarh, and we've been together ever since."