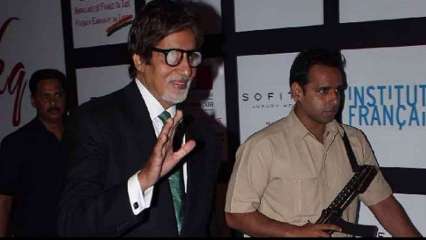 Amitabh Bachchan's police bodyguard Jitendra Shinde has been transferred after reports surfaced that he was earning Rs 1.5 crore per year. According to reports, a departmental inquiry has been ordered into the matter. 
Shinde is a constable in Mumbai Police and he was posted a bodyguard for Amitabh Bachchan in 2015. It is to be noted that Kaun Banega Crorepati's host Amitabh Bachchan has been provided 'X' category security by Mumbai Police and Shinde became a part of Big B's security after he was made the actor's bodyguard in 2015.
Notably, as per Mumbai Police guidelines, a police constable cannot remain on the same post beyond five years. And this seems to be the main reason why Shinde has been transferred as Amitabh Bachchan's bodyguard.
Shinde could be spotted with Amitabh Bachchan like his shadow both in India as well as abroad. It is to be noted that Shinde's wife runs an agency, which provides security guards to celebrities.
Soon after the reports surfaced that Shinde is earning Rs 1.5 crore annually, Mumbai Police ordered an inquiry into the matter to establish whether the said money was being earned by Shinde from Big B or someone else.
The state government has also launched a probe to verify whether Shinde had informed authorities about his annual income. The authorities are also probing whether Shinde was drawing a second salary from other sources which are prohibited as per the state's law.
As per service rules of Maharashtra, a Government servant is not allowed to accept a salary from two establishments.
As per the report, Jitendra Shinde has been transferred to a police station in South Mumbai.