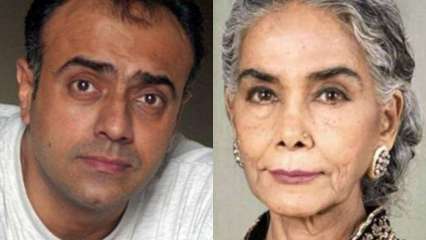 Three-time National Award-winner actress Surekha Sikri-Rege, who excelled equally on stage, films, television and web series, passed away following a cardiac arrest early on Friday. She was 76 and breathed her last surrounded by her family members and caregivers. The family requested privacy in their hour of grief. A former sister-in-law of veteran actor Naseeruddin Shah, Sikri had lost her husband Hemant Rege around 12 years ago and is survived by their son Rahul Sikri.
Sikri had been ailing for the past few years after having suffered a paralytic stroke in 2018, followed by a brain haemorrhage in 2020.
Recently, while mourning her loss and recalling what a great actor she was, actor Rajit Kapoor said the late veteran star was never given a 'great part since she wasn't beautiful in the conventional sense'. He also added that it upset her a lot' though she later 'stopped caring about it'. He also said that she never 'really got her due as a performer'.
Speaking to SpotboyE, Rajit Kapoor said, "Unfortunately, not many people knew what a firehouse she was, that her theatre colleagues knew. I also know that good looks came in the way so often with her. She was never given a great part since she wasn't beautiful in the conventional sense and that used to upset her a lot in the middle. But soon she stopped caring about it. A performer like her needs to be given a salute."
Recalling Surekha playing his grandmother in 'Mammo', he said, "I think she was one of the most fantastic actors we have had in the country and I feel bad since I don't think she ever really got her due as a performer. She only came into the limelight pretty late with Balika Vadhu and became a household name. But she could do any role and the smallest part given to her would shine since she was a performer. From the small role in Saradari Begum to playing my nani (grandmother) in Mammo, I just saw the ease and effortlessness with which she performed and still made it starry."
Born in Delhi, she spent time at the famed Aligarh Muslim University and then joined the National School of Drama, graduating from there in 1971.
Starting her acting career of more than four decades, she first worked on stage for over a decade and then debuted in Hindi films with the acclaimed political drama "Kissa Kursi Ka" (1978) which was banned briefly.
Later, she played supporting roles in several Hindi movies like "Salim Langde Pe Mat Ro", "Tamas", "Mammo", "Sardari Begum", "Sarfarosh", "Zubeidaa", "Jo Bole So Nihaal", "Badhai Ho", and her last film "Ghost Stories".
Simultaneously, she acted in several TV serials including "Just Mohabbat", "Mano Ya Na Mano", "CID", "Kesar", "Maha Kumbh: Ek Rahasya, Ek Kahani", and the hugely popular "Balika Badhu" which catapulted her into the hearths and hearts of the masses.
Over the years, she bagged the National Award for "Tamas" (1988), "Mammo" (1995) and "Badhai Ho" (2018), and the Sangeet Natak Akademi Award (1989) for her services to Hindi theatre, besides a string of other honours, awards and accolades.
Top Bollywood, theatre and television personalities mourned the loss of Sikri, and social media was flooded with fans` memories and messages on her performances over the decades.
(With input from IANS)