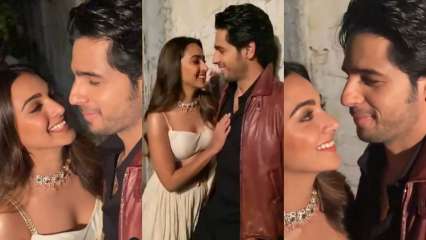 There's no denying that Bollywood celebrities Sidharth Malhotra and Kiara Advani make for a good looking couple both on and off-screen. Rumoured to be dating for a while now, Sidharth and Kiara are currently basking in the success of their recently released film 'Shershaah' which garnered a lot of praise from all quarters. Especially, Sidharth's near-perfect portrayal of Captain Vikram Batra and his ability to evoke buried emotions and bring tears into the eyes of the viewers through his performance was highly appreciated by the critic and his fans alike. 
However, it seems like the duo still aren't over promoting the film or can we just say they aren't over portraying being in love?
On Monday, Sidharth and Kiara took to their respective social media handles to share a romantic video, apparently directed by Sidharth himself (as mentioned by Kiara in her caption). The duo used their song 'Kabhii Tumhhe' from the film and dropped yet another mushy video recorded in slow motion. 
In the video, Sidharth and Kiara just can't stop looking at each other. The two are seen smiling and expressing by way of just their body language and expressions how much they are in love with each other, or so their fans would like to believe so. 
In her caption, Kiara credited the direction to Sidharth. She wrote, "#SherShaah ️#SherShaahReels Directed by SidMalhotra"
As soon as Kiara and Sidharth dropped the video, fans took to the comments section and urged them to 'get married already'. 
"Why dont u marry guys," asked an Instagram user. "Pls get married," requested another. "Can you two please get married already," wrote yet another user. 
Watch the video clip here: 
During the promotions of 'Shershaah', Kiara had said in an interview with ETimes that she considers Sidharth as 'one of her closest friends in the industry'. She had said, "As a co-star, Sidharth is extremely driven and focused. He loves to prep a lot and does a lot of readings. That's very similar to the way I like to work on a film. So, in that sense, we got along very well. As a friend, I'd say he is one of my closest friends in the industry. I think, even as a friend, he's full of life and always fun to be around."
Kiara and Sidharth have often been spotted visiting each other's apartments in Mumbai. In fact, they have been said to be on vacations together. However, the duo has neither ever confirmed nor denied being in a relationship, but their fans like to believe that the two certainly are together.