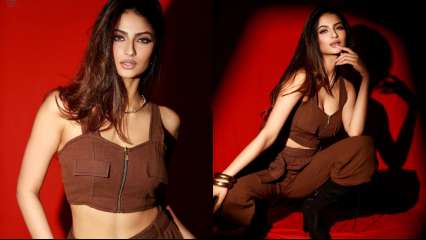 Palak Tiwari, Shweta Tiwari's daughter, has been causing a stir on the internet with her stunning images. The internet loves it when the star youngster publishes photographs that make people turn their heads. Shweta Tiwari, who was last seen on 'Khatron Ke Khiladi,' is regularly seen in her photographs.
Palak Tiwari looks stunning in a monochromatic crop top and jeans for a photo shoot. She accessorised her look with fashionable boots and accessories.
She captioned the latest photos as, " As miss Ariana once said: "Focus on me".
Take a look at the photos here-
For the unversed, Palak Tiwari is all set to make her acting debut with a horror film, 'Rosie: The Saffron Chapter' alongside Vivek Oberoi.
However, Shweta Tiwari regrets the fact that she could not provide Palak with much beyond her support because she primarily belongs to a different industry.
"I feel very proud because everything that she got, she did it with her hard work and her auditions. I was just there to support her. I could not provide her anything else being in a different industry. (I belong to) The TV industry and she is going to enter the film industry," Shweta told IANS.
"The way of working in these two industries are absolutely different. I think I could not help her much, which I feel sad about. She is such a hardworking girl and I am so proud of her," the actress added.
Meanwhile, Palak's upcoming film 'Rosie: The Saffron Chapter' is based on true events. The story is about an employee, Rosie who worked at a call centre called Saffron in Gurgaon, India. One day Rosie stops coming to the office, the plot twist here is that she had died eight years back!