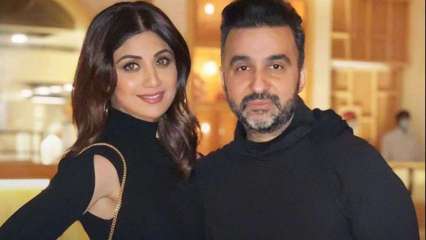 In the latest development in the Raj Kundra pornography case, the Property Cell of Mumbai Crime Branch on Wednesday submitted a 1500-page supplementary charge sheet before Esplanade Court in connection with the porn racket Bollywood actress Shilpa Shetty's businessman-husband Kundra. As per information shared by Mumbai police, the 1500-page charge sheet contains the statements of 43 witnesses including Raj Kundra's wife and actress Shilpa Shetty.
Now, a report in The Indian Express has divulged the details of Shilpa Shetty's statement that is included in the charge sheet. As per the Indian Express report, in her statement to the Mumbai police Shilpa Shetty said that her husband Raj Kundra started Viaan Industries in 2015 and she was one of the directors of the company till 2020. The actress mentioned that she later resigned from the company due to personal reasons. "Kundra started Viaan Industries Limited in 2015 and I was one of the directors till 2020 when I resigned due to personal reasons," Shilpa was quoted telling Mumbai Police in the Indian Express report. 
She added that she wasn't aware of Hotshots or Bollyfame apps, two of the many applications allegedly used by Raj Kundra to public pornographic content.
"I am not aware of the Hotshots or Bollyfame apps. I was too busy with my own work and hence, not aware about what Kundra was up to," Shilpa Shetty added as per the report.
Besides Shilpa Shetty, the statements of actors Sherlyn Chopra, Sejal Shah, many models and employees of Kundra's company have been recorded in the charge sheet. The charge sheet also includes the names of the two accused in the case.
In April, the police had filed its first charge sheet in the case against nine persons originally accused, and after subsequent investigations, two more accused, including Kundra, were nabbed.
The police have contended that Raj Kundra – currently in judicial custody along with his company Viaan Enterprises` IT head Ryan Thorpe – were allegedly engaged in creating pornographic content which was published through some paid porn apps.
The alleged scam came to light early this year when the Malad police raided a bungalow at Madh Island where porn films were reportedly being shot leading to the arrest of the filmmakers, the actors, and the technical staff.
The Mumbai Police have formed a special investigation team and filed multiple FIRs in the case after more complainants, including some television and film industry starlets came forward.