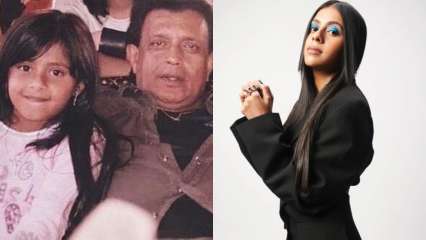 Bollywood's very own 'Disco King' Mithun Chakraborty has been the people's hero ever since he started his career and won hearts with his dancing and acting skills. Apart from excelling in the film industry, Mithun Chakraborty is a 'superhero' in his real life as well. The actor has three sons, Mahakshay, Namashi, Ushmey, and a stunning and doting daughter named Dishani Chakraborty. 
 A lot is especially known about Mithun's eldest son Mahakshay. He is an actor himself and is 'Anupamaa' actor Madalasa Sharma's husband. However, very little is known about Mithun's adopted daughter Dishani. 
Mithun had reportedly adopted Dishani after she was found near a garbage bin when she was a baby. A leading Bengali daily had once reported that a baby, abandoned by her biological family, was left all alone near the garbage. 
A few people noticed the baby and out of them, one took her home safely. When Mithun read about the same, he immediately inquired about the same and requested to adopt the baby. Then, Mithun Chakraborty and his second wife Yogeeta Bali together completed the paperwork and took the child home. 
Dishani also adores her father and is a daddy's girl, a fact which is evident through her Instagram account. 
As of now, Dishani Chakraborty is pursuing an acting course from the New York Film Academy. Dishani has already made her acting debut with the 2017 short film "Holy Smoke" which was directed by her brother Ushmey Chakraborty. She has also appeared in short films such as "Underpass" and "Subtle Asian Dating with PBM".