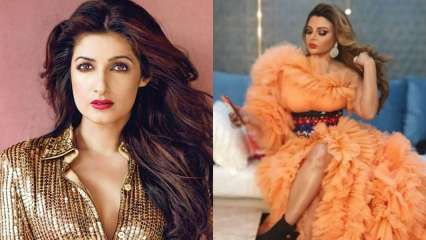 As soon as one hears Rakhi Sawant's name, we know there's going to be lots of entertainment. Sawant, who made sure she entertained her fans with her quirks and eccentricity in 'Bigg Boss 14', recently took to her Instagram handle to express gratitude to Twinkle Khanna for being 'humble' and taking out time to write 'something nice' about her. 
For the unversed, Tweak India is a channel founded by Twinkle Khanna that helps women answer questions on health, wellness, parenting, career, relationships and more. 
Now since the 'nice words' Rakhi mentioned were shared on Tweak India's Instagram page, Rakhi thanked the founder for seeing for who she is. The post on the channel Tweak India about Rakhi Sawant was all praise for the entertainer. In the caption, Rakhi was lauded for her grit and determination and for managing to make it on her own in a cut-throat industry despite being subjected to public ridicule.
On the Tweak India Instagram page, alongside a photo of Rakhi Sawant, the caption read, "With the kind of public ridicule Rakhi Sawant has endured over the years, I would have dug myself a hole and lived the rest of my life as a meerkat. But when you're in on the joke, you can't be embarrassed. As much as we may laugh at her, she's laughing too — all the way to the bank, pulling her family out of poverty and building a life for herself in a pretty cut-throat industry."
The original article written by Sara Hussain was titled 'Rakhi Sawant is everything I could never be, and I love her for it'. 
However, Rakhi thanked Twinkle Khanna for being humble and writing about her. Rakhi wrote in her post, "Thankyou so much @twinklerkhanna and @tweakindia it's means a lot to me .. thank you @twinklerkhanna ji that u removed your precious time and wrote some thing nice about me… I have always been one woman army fighting for what I believed in .. in a place where I was laughed , made fun off , trolled , abused however I still stood strong on my grounds .. today I m proud of what I am and that I can take care of me and my family and overcome all the hardship by bringing in joy laughter and entertainment in people's life …I am sure it takes a lot to be as humble as twinkle Khanna and it takes a heart of iron to be Rakhi Sawant." She followed up her post with red-heart emojis. 
Take a look at Rakhi Sawant's post here: 
Meanwhile, Rakhi Sawant recently got her nose surgery done and shared a post about it on her Instagram handle. Rakhi was hurt during a massive fight with Jasmin Bhasin and Nikki Tamboli on 'Bigg Boss 14'. However, post her surgery, Rakhi mentioned that she was relieved of the pain and was in a much better condition than before.