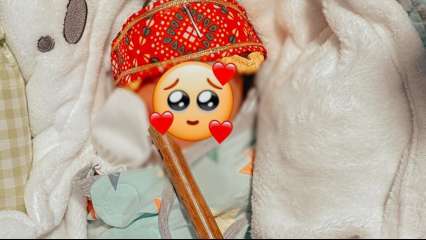 Kishwer Merchant and Suyyash Rai just welcomed a beautiful baby boy into their family. The internet was also abuzz with Kishwer's maternity photographs.
The new parents shared a peek of their infant hiding his face as they welcomed him into the world.
The couple brought the baby boy home today, Janmashtami, and Suyyash took advantage of the occasion by posting a photo of the kid on Instagram.
Captioning the photo he wrote, "Our KANHAIYA is home today on Janmashtmi  you guys have given sooooo much of love already  thankyou everyone from the bottom of our hearts we've not been able to answer calls and reply to messgs but trust me we've read all the messgs and comments  all I can say is we're overwhelmed with all the love and blessings #Sukishkababy #babyrai"
Take a look at the post here-
On Sunday, actor Kishwer Merchant opened up about the challenges she had during her pregnancy and as a new mother.
Kishwer, 40, shared a touching photo of herself with her newborn son from the hospital, along with a statement in which she promised her son that together they will make things better for him.
She wrote, "My Bugs Bunny I know there have been a lot of problems .. I haven't been the best , with the C section, pain killers, tiredness, anxiety and breastfeeding .. but like we promised each other today, we both will help each other in this journey and make things better for us , love you my son"
For the unversed, In December 2016, Kishwer Merchant married Suyyash Rai and have now welcomed their baby boy.