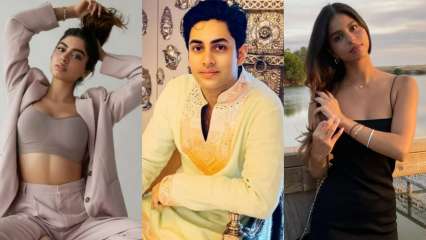 Rumours have been rife that star kids Khushi Kapoor, Suhana Khan and Agastya Nanda are all set to make their acting debut in a Zoya Akhtar directed comic-book-inspired show for Netflix. 
For the unversed, Khushi is the younger daughter is filmmaker-producer Boney Kapoor and late Sridevi while Suhana Khan is Shah Rukh's only daughter. On the other hand, Agastya Nanda is the grandson of megastar Amitabh Bachchan. 
As per media reports the three will be launched together in a show inspired by the famous Archie comic, where Agastya will play the male lead and Khushi and Suhana will essay the roles of Betty and Veronica. It is also being reported that Saif Ali Khan's son Ibrahim Ali Khan may be part of the show as well.
Now, based on the reports, filmmaker Boney Kapoor has broken his silence and stated that he knows nothing about such a project. 
When confronted with the news of his daughter making her debut with Zoya's film, an ETimes report quoted Boney Kapoor saying, "I don't know anything about this. I don't know what you are talking about." 
Earlier, while talking about Khushi's Bollywood debut, Boney Kapoor had told Bombay Times, "I have the resources, but I would rather have someone else launch her because I am her father and one tends to get indulgent. You can't afford to do that as a filmmaker and nor is it good for the actor." 
For the uninitiate4d, Khushi Kapoor is currently pursuing a course in acting at the New York Film Academy. As for Suhana, she too is pursuing film studies at The New York University Tisch School of the Arts.