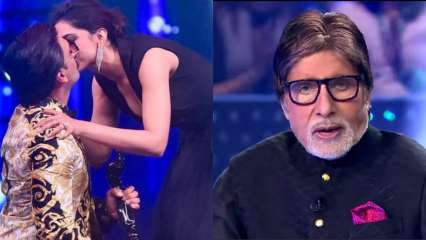 A new 'Kaun Banega Crorepati 13' promo had Amitabh Bachchan revealing a funny anecdote about Bollywood's powerful couple Ranveer Singh and Deepika Padukone. Bachchan spoke about the incident and said that it took place during an award show a few years back. 
Speaking to Deepika and Farah, Bachchan said, "Humare saath bhi ek durghatna ho gayi (I got involved in an accident)." Deepika and Farah are celebrity guests on 'KBC 13' for a Ganpati Special Episode today. 
Revealing more information about the incident, Bachchan told Deepika and Farah that at an awards show, a few years back, Ranveer made a grand entry on a crane. Bachchan said that while he was a few feet away, Ranveer made a gesture towards him, showing two fingers at his eyes. 
Bachchan then hilariously revealed that he didn't know what the gesture meant so he made it back at Ranveer. However, Bachchan said he realised what had happened when his wife Jaya Bachchan told him exactly what happened. 
"Mere bagal mein Jaya ji baithi thi. Bohot aahiste se kaan mein aaye, 'Yeh tumhare liye nahi kar raha hai' (Jaya was sitting next to me, she leaned in and whispered that the gestures were not for me)." 
Amitabh then looked on his side where Deepika was sitting. "Bagal mein Deepika ji baithi hui thi. Yeh sab jo tha yeh tab chal raha tha aur tab inka vyah nahi hua tha (Deepika was sitting next to me. All this was happening. And this was when they were not married yet)."
Ranveer and Deepika got married in November 2018 in a private and intimate ceremony.