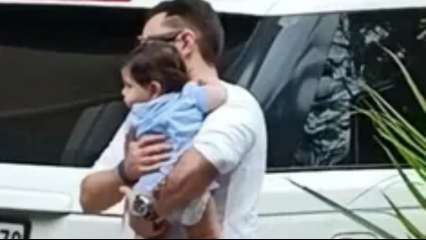 On Friday, the paparazzi in Mumbai got their first glimpse of Jeh Ali Khan, Kareena Kapoor and Saif Ali Khan's newborn.
Kareena came to a halt at the entrance, waving to the paparazzi and flashing a wide smile. She was dressed in a grey top, black leggings, and dark sunglasses. Saif Ali Khan wore his trademark white kurta and black slacks. He was the one who was holding Jeh. 
Kareena hasn't posted a photo of Jeh's face on Instagram since his birth. Following the reveal of his full name, Jehangir Ali Khan, in her book, the couple has been subjected to internet abuse and trolling.
Speaking about it, Kareena told India Today in an interview, "You know I am a very, very positive person. I am very happy and content. I want to spread happiness and positivity in a time like Covid, I can't think of trolls or any form of negativity.
About dealing with trolls, Kareena said, "I have to start meditating now that I am pushed against the wall. We are talking about two innocent children here. But we are going to stay happy and positive," Kareena added. 
"We're in a global pandemic right now. I don't think the most important thing is 'what my son is doing' or 'what my son's name is' or 'what exactly is happening with my son.' I don't think that's the focus."
Kareena Kapoor Khan's next film will be 'Laal Singh Chaddha,' in which she will star alongside Aamir Khan.
Kareena and Saif married in 2012, and their first child, Taimur, was born in 2016. On February 21st, Jeh was born.