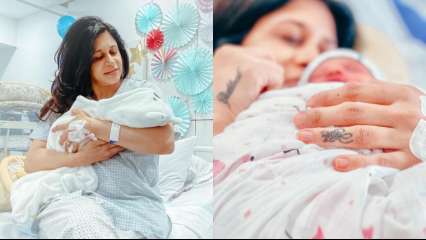 On Sunday, actor Kishwer Merchant opened up about the challenges she had during her pregnancy and as a new mother. On Friday, Kishwer and her actor husband Suyyash Rai gave birth to their first child, a baby boy.
Kishwer, 40, shared a touching photo of herself with her newborn son from the hospital, along with a statement in which she promised her son that together they will make things better for him.
She wrote, "My Bugs Bunny I know there have been a lot of problems .. I haven't been the best , with the C section, pain killers, tiredness, anxiety and breastfeeding .. but like we promised each other today, we both will help each other in this journey and make things better for us , love you my son"
In another post in which she is holding the baby she said, "Naam bhi bataaayenge….Shakal bhi dikhaayenge… par abhi ke liye aap sab sirf pyaar barsaayenge  can't thankyou all enough for all the love and blessings you guys have showered love n only love #Sukishkababy"
Suyyash in his post wrote, "Meri choti sii duniya  bohttt kuch feel kiya hai aaj tak, but yeh jo feel hua hai  is priceless, I love u @kishwersmerchantt  this is the besttttt gift u've given  #Sukishkababy thanku for completing"
In an interview with Hindustan Times Kishwer once said,  "Being a mother at 40 is cool and age is just a number. It was destined to happen this year, I guess. I asked all sorts of questions to the doctor but she's asked me not to worry. In fact, I have cousins who have delivered at 40 and 42, so I don't see age as a problem and things are changing as many people don't have kids at 20 or 24 but a bit later. Moreover, due to our lifestyle, workout, healthy eating, it will be fine and delivering at 40 is fine,"
For the unversed, In December 2016, Kishwer Merchant married Suyyash Rai and have now welcomed their baby boy.