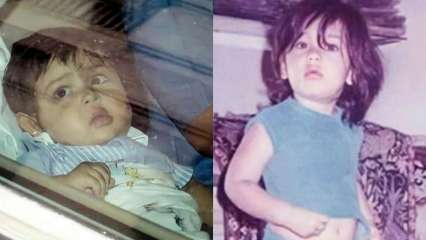 Amid the controversy around Jeh Ali Khan's name, celebrity couple Kareena Kapoor Khan and Saif Ali Khan stepped out in Mumbai city to visit the actresses dad Randhir Kapoor along with their two sons — Taimur Ali Khan and Jeh. 
It was for the first time since his birth that the paps managed to capture Jeh Ali Khan and share a clear glimpse of him with the world. Up until now, Kareena and Saif had neither disclosed the name of their son nor shown his face in any of the photographs she shared on social media featuring him since his birth. 
It was just before the launch of her book 'The Pregnancy Bible', that the name of Kareena and Saif's second was disclosed as Jeh. 
On Friday, as soon as the first photo of Kareena and Saif's son Jeh was out, fans showered him with love and were quick to point out that he was the exact copy of his mother. 
"Copy ! Tim more his dad but jeh exactly his mom," a fan wrote in the comments section of a post shared by one of Kareena's fan clubs on Instagram. "Sweet jeh definitely he look like like his beautiful Mum Kareena Blessed," wrote another. "Wow he looks like Kareena exactly," commented yet another user. 
Take a look at Jeh's photos here:
Meanwhile, there has been a controversy surrounding Kareena and Saif's second-born son after it was disclosed in the actress's latest book that Jeh's full name was Jehangir Ali Khan. Social media users trolled the star couple for their choice of name. The couple had encountered a similar situation when they had disclosed their first-born's name as Taimur. 
Recently, Kareena opened up about the controversy surrounding her son Jeh's name and told India Today in an interview, "I am a positive person and I want to spread happiness and positivity. There is no place for negativity in our lives. Look at what the Covid-19 pandemic has done. It has brought the world closer. That's what all of us should think about." About dealing with trolls, Kareena said, "I have to start meditating now that I am pushed against the wall. We are talking about two innocent children here. But we are going to stay happy and positive," Kareena added. 
Kareena further added that there was undue attention given to her choice of naming her baby considering there was a lot happening otherwise in the world that netizens should be worrying or concerned about. "We're in a global pandemic right now. I don't think the most important thing is 'what my son is doing' or 'what my son's name is' or 'what exactly is happening with my son.' I don't think that's the focus."
On the work front, Kareena Kapoor Khan will be next seen in 'Laal Singh Chaddha' opposite Aamir Khan.