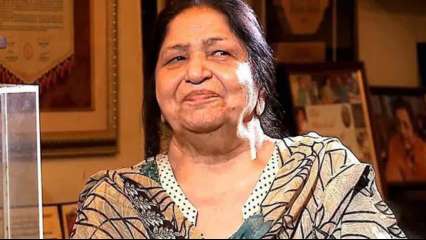 Music director Khayyam's wife, veteran playback vocalist Jagjit Kaur, died at the age of 93.
According to the late artist`s spokesperson, Kaur, the widow of the late music composer Mohammed Zahur Khayyam, breathed her last around 6 am at her residence in Mumbai.
The last rites of Kaur were performed at Pawan Hans Crematorium, SV Road Vile Parle earlier in the day.
Kaur was best known for singing `Dekh lo aaj humko` from `Bazaar` and `Pehle to aankh milana` from `Shola Aur Shabnam`.
Several social media users have mourned the demise of Kaur.
Take a look at some tweets here-
Apart from the few memorable songs Jagjit Kaur sang, her contribution to Khayyam sahab's compositions was immense. Khayyam himself refers to it in an interview they did together.

She always expressed a desire to sing more but stayed away from the spotlight.

RIP Jagjit Kaur https://t.co/bfPalfPJDr

— Radhika Bordia (@radhikabordia) August 15, 2021
The song from movie Bazaar – देख लो आज हमको जी भरके, कोई आता नहीं है फिर मर के । Sung by Jagjit Kaur and music composer was Khayyam. Fell in love with the song when I 1st heard it so many yrs back, and I still love it everytime I hear it.

RIP !

— Gaurav Jain (@Aarihaan_Indus) August 15, 2021
 One of my favorite songs from Baazar https://t.co/Ia2E5NxK6Q

— parikhm (@parikhm) August 15, 2021
So sad to know that #JagjitKaur ji is no more.

A wonderful singer in her own right. Widow of the legendary music director #Khayyam

Her best song: Tum Apna Ranj o Gham Apni Pareshani Mujhe De Doh

Here's an interview to know the greatness of this couplehttps://t.co/9wMM89Y4KQ

— Sudheendra Kulkarni (@SudheenKulkarni) August 15, 2021
RIP singer #JagjitKaur .

Tum Apna Ranj o Gham Apni Pareshani Mujhe De Doh

Perhaps the finest song she sang. For husband & ace composer #Khayyam. Lyrics by, who else, the matchless #Sahir https://t.co/h09CO4UDeq https://t.co/bkoKyf87my

— Vivek Sengupta (@vsengupta) August 15, 2021
Jagjit Kaur was an Indian Hindi/Urdu vocalist who was married to Mohammed Zahur Khayyam, the music director and he died in August 2019 after suffering a cardiac arrest. Pradeep, their son, died in 2012 from a heart attack. They established the 'Khayyam Jagjit Kaur KPG Charitable Trust' to assist artists and technicians in need, inspired by their son's caring attitude.
Despite the fact that she had sung fewer cinema songs than her contemporaries Lata Mangeshkar and Asha Bhosle, her songs have all been recognised as outstanding classics.