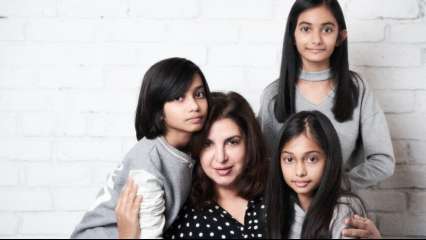 Body shaming has a significant impact on a person's mental health. These words, which range from 'moti' (fat) to 'dandi' (thin), leave permanent scars on one's psyche. This is something that many Bollywood stars have to deal with because they are frequently spotted and photographed by paparazzi.
Farah Khan recently responded to a troll body-shaming her. Farah appeared on Arbaaz Khan's chat show recently, where she responded to a troll's insult about her triplets. The comment read, 'Moti ke bachche itne sukhe kyun (Why are the fat one's kids so skinny?)' Slamming the troll, Farah said "you take care of your kids, I will take care of mine".
Farah went on to claim that she is ridiculed online even when she simply says 'hi', with trolls questioning why she didn't do a 'namaste' or a 'salaam'. Everyone with a phone, she claims, considers themselves a critic and believes they know everything there is to know about movies.
The director also discussed the backlash she received for her film 'Tees Maar Khan,' starring Akshay Kumar and Katrina Kaif. Farah responded to those who brought up the film in the comments by saying, "It's been ten years, move on."
Farah also addressed the current discussion in Bollywood concerning nepotism. People worry about nepotism, but they also want to see only Shah Rukh Khan's daughter Suhana Khan's images or Kareena Kapoor Khan's sons Taimur and Jehangir's pictures, according to reports.
Farah Khan Kunder is a Hindi film director, producer, actor, dancer, and choreographer who primarily works in the Hindi cinema industry. Khan has choreographed dance sequences for over a hundred songs in over 80 films, receiving six Filmfare Awards and the National Film Award for Best Choreography. She's also worked on Tamil films and foreign productions like 'Marigold: An Adventure in India', 'Monsoon Wedding', 'Bombay Dreams', and the Chinese films 'Perhaps Love' and 'Kung Fu Yoga', for which she received Tony and Golden Horse Award nominations. She went on to become a film director, earning nominations for the Filmfare Best Director Award for both her first and second films, 'Main Hoon Na' and 'Om Shanti Om'.