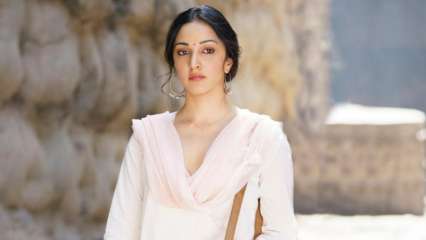 With just a day to go for the release of Sidharth Malhotra and Kiara Advani starrer 'Shershaah' on Amazon Prime Video, the anticipation to witness the tale of the 1999 Kargil war hero Captain Vikram Batra's (PVC) sacrifice and courage has been tearing the roof. 
Playing the love interest of Captain Batra is actress Kiara Advani who brings to the screen the strength, courage, sacrifices and emotional and mental turmoil that Dimple Cheema goes through while her man is serving in the Army and fighting a war to protect his motherland. Kiara essays Dimple's role to bring to the audience what goes behind being devoted to a man even decades after his death.
So when we spoke to Kiara exclusively in a video interaction and talked about how important did she think it was to tell the love story of Dimple Cheema and Captain Vikram Batra alongside the story of Shershaah's valour on the battlefield, she told DNA, "Let me begin with a narration that I had when I was first hearing about the film and meeting Vishnu sir. I left that meeting wanting to share the story in totality with whoever I met whether it was my family or my team because when the Kargil war took place I was very young, and I was aware of it but not in such depth and detail as now I am because I am part of the film."
"We always think about the Army officers and have so much gratitude in our hearts for them but hearing about their lives beyond just the officers that they are, I mean at 24 or when he was college and was deciding that he wanted to join the Army and it was his one true love since he was a child, he still had a personal life, he was in love with Dimple (Cheema), they had plans of getting married, and through the narrative every moment that Vishnu sir had shared with me in the narration, it was almost like this is so beautiful but did he really do this? Is this really what happened? And then fortunately before we started filming for 'Shershaah', I met Dimple Cheema and heard from her first hand and she shared about their relationship, stories about the time they spent together, and it amazing how it's been beautifully integrated into the screenplay and how wonderfully it's a part of a film which is on his entire life but the crux of it is of course for what we know him for — his part in the Kargil war," Kiara added. 
She further said, "Through her, I was really understanding what it really takes — the emotional turmoil of any partner of an officer who is serving for the nation. It's unimaginable. Being a civilian it's very different to be in a relationship than with someone whose duty is such a high-risk job and factor. These are the things that moved me and stayed with me and I felt like this is a story we have to share."
Watch the entire conversation here:
About how much was she personally affected after meeting a person who had decided to devote her life to the man she dearly loved, Kiara said, "My intention when I met her was to just listen to her and understand the emotional journey. It was about getting the emotions right. When she spoke, she spoke with such happiness and pride that it doesn't make you pity, it, in fact, makes you empathise in a way that 'how beautiful'."
"She (Dimple) has chosen to live this life and she lives it with so much happiness as though he (Captain Batra) is still around her. And that is deeply moving and endearing about her. I did ask her at one point of time 'but it's been so many year' and she looked at me like 'like that doesn't matter' and said, 'I'm upset with him right now but that's ok I'm going to meet him and saari shikayatein tabhi milke due kar dungi'," Kiara concluded. 
Directed by Vishnu Varadhan, Shershaah is inspired by the life of Captain Vikram Batra (PVC). The film is jointly produced by Dharma Productions and Kaash Entertainment. It marks the first-ever and landmark collaboration between Amazon Prime Video and Dharma Productions for a global release. 
Shershaah will stream on Amazon Prime Video in India and across 240 countries and territories starting August 12.