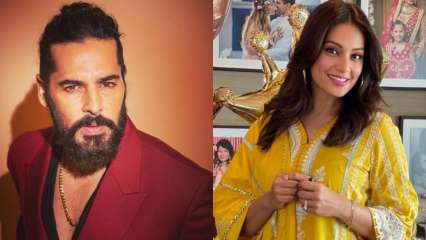 Actor Dino Morea, who is basking in the success of his web series 'The Empire', recently opened up about his current equation with ex-girlfriend, actress Bipasha Basu. In an interview with Hindustan Times, Dino Morea, whose affair with Bipasha Basu was all the rage back in the day, revealed that his equation with the 'Jism' star is still the same and that they are 'very friendly' and speak with each other every now and then. 
Talking about his breakup with Bipasha, Dino said that they were professionals and did not let their personal relationship come in the way of their work ever. He added that according to him the two of them handled the situation very  'professionally.
"My equation with Bipasha Basu from Raaz to Gunaah had not changed. I don't think it changed ever. Yes, we were dating when we were shooting Raaz. Then we were not dating during Gunaah. But, I think we were both professional actors and we both wanted to be professional on the sets and in the industry. So, we did not let our personal relationship come in between our work, we let that stay out of the work we did. I think we both handled everything very professionally," Dino Morea told Hindustan Times while opening up about his break-up with Bipasha Basu. 
About his current equation with Bipasha, Dino said, "My equation with her is still…I mean we both respect each other and we both are still friendly, very friendly. In fact, we don't talk as much but we talk every now and then and there are those cherished memories which were wonderful. So, the equation is great!"
For the unversed, Bipasha Basu is married to actor Karan Singh Grover. The duo tied the knot in 2016.
As for Dino's work, his web series 'The Empire' in which he essays the role of a ruthless warlord has been garnering a lot of praise. However, a section of social media users has also expressed their rage over the series for glorifying Mughal emperor Babur. 
About his character and look in the series, Dino had earlier said, "My look in The Empire is everything you imagine to be dangerous and ferocious. His hair, scars and his costume are detailed in a way that makes him look deadly yet may be desirable. Could probably make the audience feel fear but will still keep looking. The makeup and the costume team have done a brilliant job at crafting the perfect look."
Directed by Mitakshara Kumar and adapted from Alex Rutherford's book, The Empire explores the coming of age story of a young king and his fight to save the honour of his family and kingdom. The gripping story traverses across characters that play an integral part in making him the emperor and continue to have his back as he begins to doubt his capabilities as the head of the state.  Actor Kunal Kapoor plays Babur who is seen battling actor Dino Morea who dons the ferocious look of the antagonist Shaibani Khan in the series. The queen of television actor Drashti Dhami makes her digital debut with The Empire as Khanzada. Joining them is the evergreen and supremely talented Shabana Azmi playing Begum Aisan Daulat.