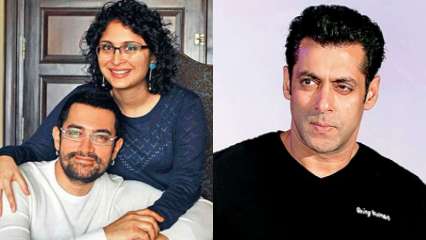 Aamir Khan and Kiran Rao have decided to go their separate ways after fifteen years of marriage. Before this, Aamir and his then-wife Reena Dutta were married for sixteen years before they divorced in 2002. 
Aamir Khan had once revealed that following his split from Reena, it was actor Salman Khan who had helped him get through the entire process. 
During his appearance on Karan Johar's show 'Koffee with Karan', he had confessed that there was a time when he wanted to maintain his distance from Salman Khan because he had a bad experience with him shooting for 'Andaz Apna Apna'. However, this changed when it was Salman who stepped in and decided to help Aamir during his tough times. 
He said, "In Andaz Apna Apna I had a very bad experience working with Salman Khan. I didn't like him then. I found him rude and inconsiderate. After tasting the experience of working with him I just wanted to stay away from Salman," but also added, "Salman walked into my life when I was at my lowest. I had gone through a divorce with my wife. But later we bumped into each other and he expressed his wish to meet me. We met again and drank together and we connected. And it began as a genuine friendship and it has only grown," he added.
Aamir and Kiran announced their separation on Saturday morning. The couple has a son together, Azad. In a joint statement, they said, "In these 15 beautiful years together we have shared a lifetime of experiences, joy and laughter, and our relationship has only grown in trust, respect and love. Now we would like to begin a new chapter in our lives – no longer as husband and wife, but as co-parents and family for each other. We began a planned separation some time ago, and now feel comfortable to formalise this arrangement, of living separately yet sharing our lives the way an extended family does."