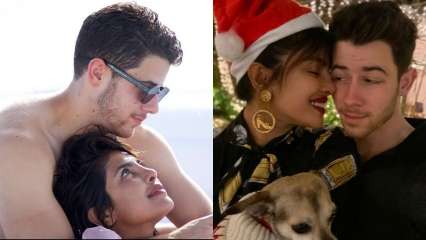 Priyanka Chopra Jonas is probably the only Indian actor to gain accolades not just in Bollywood, but Hollywood as well, thus paving way for her to earn the title of a global sensation. Apart from being an actor, Priyanka is also a successful entrepreneur and a philanthropist. But the most magical part of her life is her fairytale love story with International heartthrob, Nick Jonas. On Priyanka Chopra's birthday today, let's tell you about how she found the love of her life.
Most people think that Priyanka Chopra and Nick Jonas first caught each other's eyes at the 2017 Met Gala, however, their romantic history goes back way further.The epic love story between Priyanka Chopra and Nick Jonas started after he slid into her Twitter DMs. In an interview with Vogue, Nick recalled making the first move by sending Priyanka a message in September 2016. Responding to Nick's DM, Priyanka told him to text her instead and that is how he got her number.
Priyanka Chopra and Nick Jonas' first face to face encounter was at the Vanity Fair Oscars after party in 2017. Priyanka in an interview with Vogue recalled how at the party, Nick got down on one knee and in front of a bunch of people, said, "You're real. Where have you been all my life?" Our dear PeeCee had a flight to catch to India, so she told Nick she only had five minutes to chat. The two, however, continued flirt with each other via text for months.
A week before the Met Gala, Nick Jonas and Priyanka Chopra met over drinks at the Carlyle in New York. Post their rendezvous, Priyanka invited Nick to her apartment, where her mother, Madhu Chopra was present. The couple told Vogue that they didn't even kiss at the end of the night. Nick was 'respectful' and left after giving Chopra a nice pat on the back.
Priyanka and Nick sparked dating rumours after arriving at the Met Gala red carpet together. When Jimmy Kimmel asked Priyanka why she attended the Met Gala with Jonas, the Quantico star said, "We were both wearing Ralph Lauren, and we decided to go together, and it was fun."
A year later, dating rumours between Priyanka and Nick spread like fire and by the end of July 2018, the couple was engaged. In December 2018, Priyanka and Nick had a dreamy and lavish wedding in India, which was attend by some of the most famous names in India.
Since then, Nickyanka, as they are fondly called by their fans, have been staying at their plush LA mansion. Currently, Priyanka is in London shooting for her web series, 'Citadel'. In March 2021, Priyanka told Elle UK, that she only meet Nick every three weeks due to their hectic schedules. 
She said, "Wherever we are in the world, we fly to each other at least once a month for a couple of days. It was our rule when we first got married. Otherwise, we'd never see each other. Our teams also had to get married!"