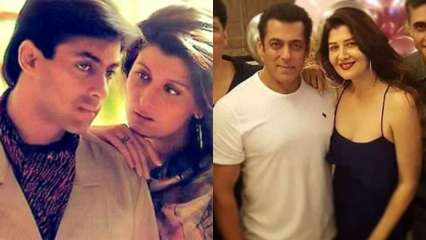 Sangeeta Bijlani, who has been missing from the silver screen since 1997, recently opened up about her equation with her former partner Salman Khan. ON her birthday today (July 9), Sangeeta, who is on cordial terms with Bhaijaan, has said that some connections 'do not break' over time. 
For the unversed, Sangeeta Bijlani and Salman Khan's affair was much talked about in the media back in the day. The two dated for a decade and were on the verge of getting married. However, things did not turn out as expected and the two parted ways. 
While Sangeeta later ended up marrying cricketer Mohammed Azharuddin and also quit her career in Bollywood, she is still in contact with Salman Khan. Sangeeta's marriage with Azharuddin ended in divorce in 2010.
On being asked how she has managed to stay in touch with her ex-beau Salman Khan, Sangeeta told ETimes, "Connections don't break. Connections never go away. The love between your partners, school friends never go away. People will come and go. Nobody will be permanent in life. That does not mean you feel bitter or angry. At one point you evolve. There was a point in time of my life where I was childish and stupid, but I am a grown-up now. Life is full of experiences."
Recently, on Salman's mother's day post for Salma Khan and Helen, Sangeeta had commented addressing them both as 'mom'. 
She also expressed her wish to make a comeback on screen via a web show. "I would like to explore web shows. I will take an offer if it appeals to my sensibilities. I am not happy with what I am getting. I am excited to see the kind of work the new directors are presenting the audience with. I want to do something deep and interesting, not the regular, run-of-the-mill kind of stuff," Sangeeta told the publication.
Earlier, Salman Khan had spoken about almost marrying Sangeeta in an appearance on Koffee with Karan. "There was a time that I really wanted to get married and then it just didn't work out. I have always come so close. People have got cold feet. 'Theek hai, boyfriend, isko zindagi bhar jhelna padega kya (They think I am a good boyfriend but it's difficult to tolerate me for the rest of their lives).' With Sangeeta, even the cards and all were printed," he had said.
For the unversed, before Sangeeta quit Bollywood, she was all the rage. She made her debut in 1987 with 'Qatil', opposite Aditya Pancholi and went onto appear in films such as 'Tridev', 'Hathyar', and 'Jurm'.