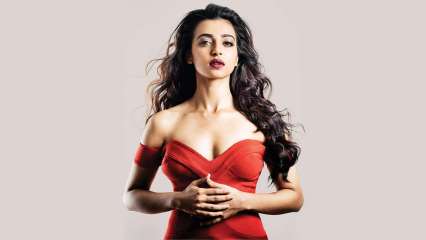 Actress Radhika Apte, one of the most critically acclaimed stars of recent times who is known for her role in films and web series like 'Pad Man', 'Andhadhun', 'Badlapur', 'Ghoul' and 'Sacred Games' among others, has been trending on microblogging site Twitter since Friday morning after nude photos of her from her film 'Parched' resurfaced online. 
The photos that have surfaced online include Radhika's lovemaking scenes with Adil Hussain and Tannishtha Chatterjee. 
Twitter users pointed out that when something goes wrong in the country, the woke celebrities spare no time to share photos holding placards, but when it come to one of them, they remain tight-lipped. While some pointed out that B-town has been quiet on the Raj Kundra issue, a mother section of users said that's Radhaik'a lovemaking scenes in the film 'Parched' were against our culture. 
On coming across Radhika's sensational photos on the internet, a Twitter user wrote, "They are against our culture." Another tweeted, "Their movies are so bad that I can't even put a photo video. The issue is that they have spread obscenity, boycott them in the interest of the country. "Bollywood always targets the ancient religion and traditions of Bharat. #BoycottRadhikaApte #BoycottRadhikaApte," tweeted yet another user. 
Bollywood always targets the ancient religion and traditions of Bharat.#BoycottRadhikaApte #BoycottRadhikaApte pic.twitter.com/Pq4BIRrNGz

— हिंदू MR (@I51cl4pnWwUOxpM) August 13, 2021
Bollywood actress Radhika Apte recently opened up about her experience of going nude on-screen in Leena Yadav's 'Parched' and about the stressful ordeal of having her 'nude clip' leaked on the internet in an interview with a magazine.

We demand government to#BoycottRadhikaApte pic.twitter.com/3YPvnuTQcT

— Aniket Kadam (@MeenaKadam7) August 13, 2021
When it comes to Kathua entire #Bollywood gang was with Placard Why these people silent on #RajKundra ? Habit of bollywood to defame degrad our culture #BoycottRadhikaApte pic.twitter.com/vw6is9ki2v

— Nandini Idnani (@idnani_nandini) August 13, 2021
In May, Radhika had opened up about doing the film 'Parched' where she played the role of a sex worker and spoke about a 'nude' video from her film 'Clean Shaven' that went viral on the internet and reports claimed back then that she featured in it. 
Talking about the film 'Parched' coming to her at a time when she needed it the most and addressing the controversy around the nude clip, Radhika told Grazia magazine, "I really needed a role like this because when you're in Bollywood you're constantly told what to do with your body and I always maintained that I would never do anything to my body or face. When a nude clip of mine leaked, while I was filming Clean Shaven, I was trolled badly, and it did affect me. I couldn't step out of the house for four days, not because of what the media was saying but because my driver, watchman, and my stylist's driver recognised me from the images."
Radhika further added, "The controversial photographs were bare-skinned selfies, and anyone with a sane eye would have guessed it wasn't me. I don't think there is anything one can do, or one should do, but ignore it. Anything else is a waste of your time. So, when I stripped for Parched, I realised: 'There's nothing left for me to hide'."
In June, Adil Hussain had opened up about the nude, lovemaking scene between him and Radhika in the movie. He has also shared details about their bold and intimate scene and what they spoke about before they enacted it.
In an iteration with ETimes, Adil was all praises for his co-star. "Radhika has committed to art and people should understand. For people like her and I, what matters is art and not what people will say," he said. 
"I was almost naked in that scene. I have no issues with such scenes as long as they have not been done to tickle one's lower senses. I have no issues with such scenes as long as they are meant to portray the complexities of human life," Adil added. He also shared that his wife did not have any issues with the nude scene as she respects his profession and has complete faith in his sensibilities.
On the work front, Radhika will be seen opposite Rajkummar Rao in Vasan Bala's 'Monica, O My Darling,' and will star in spy entertainer 'Mrs. Undercover'