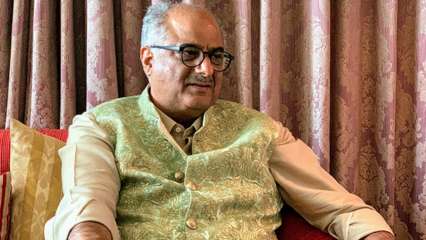 Arjun Kapoor's father Boney Kapoor recently revealed that his name was not Boney. His schoolmates changed it from Achal because he was thin.
In the interview with Hindustan Times, Boney said, I was skinny in school and so I was called Boney! My real name is Achal Kapoor.
When asked about where he was career-wise in his 20s he said, In 1975, at the age of 20, I started apprenticing with Kamlakar Karkhanis, the editor of Manmohan Desai's films. The next year, I began assisting producer-director Shakti Samanta on Anurodh and then on 'Mehbooba', Great Gambler and Anand Ashram. It was great to work with him and I got an idea of film production
He also talked about his prized possession, Boney said,"My shoes. I was fascinated with shoes and belts. Rishi Kapoor (who we grew up with) was my motivation. Whatever he wore, I told myself one day, I would better that"
Boney's son Arjun Kapoor was very close to his mother and had seen her suffer after her separation from Boney Kapoor. Boney began a relationship with Sridevi while he was married to Mona.
In an interview with Film Companion, Arjun attributed his ability to face the difficult situation following Sridevi's death to his 'mother's upbringing.' Arjun stayed at his father's side during his father's grief and repaired their bond. Janhvi and Khushi, his half-sisters, made new bonds with him.
For the unversed, Boney Kapoor's first wife Mona Shourie died just 45 days ahead of the release of Arjun Kapoor's debut film 'Ishaqzaade' in 2012.