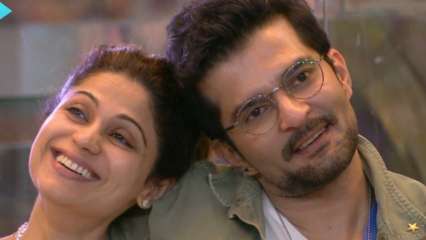 Actor Raqesh Bapat opened up about his divorce with actress Ridhi Dogra to his 'Bigg Boss OTT' co-contestant Shamita Shetty. Raqesh and Shamita's connection recently grabbed viewers' attention with their morning 'kiss' wake-up ritual. However, in the last episode where the nomination task took place, some misunderstanding between the two emerged.
As a result, Raqesh and Shamita failed to understand each other's points of view due to their decisions and found it hard to explain the situation to each other.
Shamita, who wants to build a true connection with Raqesh, was earlier seen trying to ignore the conversation mentioning her anxiety issues.
Later, with the thought of clarifying the issue and coming back on the same ground, the two sat in the garden area and decided to address the issue.
Raqesh opened up about the tough phase of his life. He talked about the problems he encountered during his childhood and adulthood. Raqesh revealed how the life-altering decision of ending his marriage has deeply affected him and further revealed how affected he was with his father's death. Raqesh said that he also suffers from anxiety issues and said: "I have not slept for two weeks at a stretch." The actor further shared how his mother and sister were dismayed to see him in a miserable state. "I was on the verge of breaking," he added.
Raqesh added how hard it has been for him to find stability in life and how deeply he wants someone to understand him.
Earlier on 'Bigg Boss OTT', Shamita Shetty was seen getting jealous of Divya Agarwal when Raqesh was consoling the latter after contestant Zeeshan Khan's mid-week eviction post the latter's physical fight with Pratik Sahejpal. While Divya had asked Raqesh to go to Shamita and not be by her side because she did not want anyone to think that she was trying to hit on him, Shamita was heard saying, 'I don't trust her (Divya) anymore'. 
A couple of days earlier, Raqesh was seen flirting with Shamita late one night and also insisted on sleeping on the same bed that night. The former was then heard addressing his connection Shamita with cute words like "Baby" etc.
When Bigg Boss assigned the housemates a task to change their connections, Shamita without having to think twice gave the heart to Raqesh as she knew he was the one! Raqesh accepted it and hugged and lifted Shamita. 
Whether or not love has blossomed between the two and how far their connection will go remains to be seen.  
(With inputs from IANS)