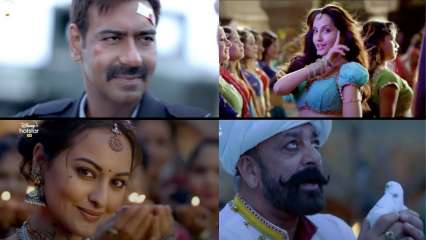 The trailer of Ajay Devgn's highly anticipated film, 'Bhuj: The Pride of India' is finally out. The actor took to his Twitter on Monday and wrote, "When bravery becomes your armour, every step leads you to victory! Experience the untold story of the greatest battle ever fought, #BhujThePrideOfIndia."
The star-studded ensemble cast also includes Sanjay Dutt, Sonakshi Sinha, Ammy Virk, Nora Fatehi, and Sharad Kelkar. The film is set amid the backdrop of the 1971 Indo-Pak war and is inspired by the journey of the fearless IAF Squadron Vijay Karnik who was in charge of the Bhuj airport, and how he re-constructed an entire IAF airbase along with the help of 300 women from a local village in Madhapar to protect our country. 
The impactful trailer begins with an airstrike on the Bhuj airport. From start to end, every character and each moment is dripping with patriotism. The trailer shows glimpses of all the actors, Sharad Kelkar as a boxer, Sonakshi Sinha as a rural woman, Ajay Devgn as an Air Force Officer, all fighting with great valour and love for the country. As per the trailer, one will also get to see Nora Fatehi doing what she does best – her top-notch dancing. Get ready to watch Sanjay Dutt in a never seen before look who seems to be leading an entire village with one common goal- fight for the country.
From missile attacks to bomb blasts to mind-blowing visual effects and some lip biting moments, one can keep their expectations high from 'Bhuj: The Pride of India'. The trailer promises powerful action sequences, heart-churning emotions, love, and patriotism towards our country and a mission that brings many brave people of Bhuj together for victory.
Towards the end of the trailer, Ajay is seen rising from war debris and says, "Mere marne ka maatam mat karna, maine khud yeh shahdat chuni hai. Main jeeta hoon marne ke liye, mera naam hai sipahi (Don't mourn my death, I have chosen martyrdom myself. I live to die, I am a soldier)."
As per media reports, Ajay Devgn directed some action sequences in the patriotic film. "It is true that Ajay designed the action sequence for the movie. The sequences come at a crucial juncture in the narrative. In the first set-piece, Ajay is seen attempting hand-to-hand combat as he fights the spies sent by the Pakistani army. The other segment, an outdoor shoot, has Sanjay Dutt and Sharad Kelkar take on the baddies. While Peter Hein has handled the remaining action scenes, he was not available in mid-March when these pieces were to be shot," a spokesperson was quoted as saying by Mid Day.
Presented by T-Series and Ajay Devgn Films, 'Bhuj: The Pride of India' will premiere on August 13 on Disney+ Hotstar.