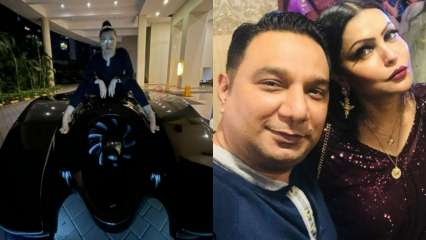 Choreographer, producer and director Ahmed Khan recently presented his wife Shaira Ahmed Khan with a rare gift that has left netizens and even friends of the celebrity couple, speechless. 
Ahmed Khan gifted his wife Shaira a swanky car on the occasion of her birthday on August 21. Days later, Shaira took to her Instagram handle to share a video and a series of photos of her super expensive and fancy black Batmobile which was remodelled after the Keaton Batmobile from 1989. 
In the photo Shaira shared on her Instagram handle, she is seen posing with the limited edition vehicle and flaunting the ride as she thanked her husband for the dream car. "Thanku love @khan_ahmedasas for this dream come true … #Ourdreamcar #keatonmobile1989 #batmobile @____azaan____ @_subhaankhan_ #keepingupwiththekhans"," Sharia wrote alongside the photos. 
Check out the pictures here:
As soon as Shaira dropped the video and photos of the mean machine, Ahmed Khan's gift received a lot of reactions from several Bollywood stars. "Insanee", Disha Patani commented on Shaira's post, while Genelia Deshmukh wrote, "Amazeeeeeee Shy." Raveena Tandon commented, "Whoooaaaaaa". Actor Elli Evram wrote, "Omg what is this thing!!!! Batman returns 2.0????"
Not just Ahmad Khan's wife, but Serum Institute of India's CEO Adar Poonawalla's fleet of cars also includes a batmobile. As per a Pune Mirror report, Adar Poonawalla's batmobile is the refurbishment of a Mercedes S350. 
The Poonawallas had hired Mumbai-based Executive ModCar Trendz (EMT) just like Ahmed Khan and paid them a fee of Rs 40 lakh to add the wings and extended boot to the car. It was a gift from Adar to his son Cyrus Jr just like Ahmed presented his wife with the Batmobile. 
On the work front, Ahmed Khan's 'Baaghi 3' which was released in cinema halls in March last year, had a run of just about two weeks at the box office before the coronavirus outbreak and the subsequent lockdown was imposed.