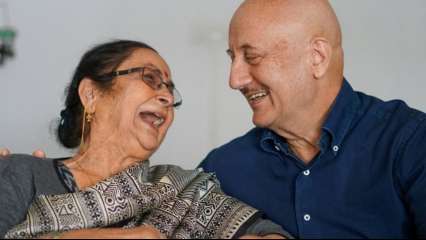 Anupam Kher disclosed that the property he presently lives in Mumbai is a rented apartment rather than his own. He revealed that he has only ever purchased one home in Shimla, which he bought for his mother, Dulari Kher.
Talking to ETimes, he said, "I don't even own an apartment in Mumbai. I live in a rented apartment. I decided 4-5 years back that I don't want to own property. The only property I bought four years ago was a house for my mother in Shimla."
 He explained, "I am the son of a forest department clerk from Shimla and lived in a small house with fourteen people in it. But, we were very happy there."
Narrating one of his prized childhood memories, he said, "One day, I asked my grandfather, 'Dadaji, we are very poor, but why are we happy?' He replied, 'Beta, when you are very poor, the cheapest luxury is happiness.'"
Revealing the tender story behind his only real estate purchase for his mother, he said, "After my father passed away, she started living with us. I used to always tease her, 'Mama, aak ko Anupam Kher hai, abh aur kya chaihye?' She surprised me by telling me 'mujhe ghar chahiye'. I told her that Raju (brother) and I have houses, so she said, 'Nahi, Shimla me… All my life I used to live in a rented home in Shimla and my desire and dream was that one day I would own a house'."
His mother's search for a home led her to the lovely village of Shoghi, where she discovered a one-bedroom apartment in a century-old house. Anupam told Etimes, "She loved that place and called me up and said, 'I found a small house with an entrance from the outside'. I asked the broker how many rooms there are in the house and he told me that it had 9 bedrooms."
"I thought that if I have to give my mother a gift, it has to be something exceptional. So I asked the broker to see if the owner was willing to sell the whole house,".
While he worked out a deal to buy the entire home, he kept his mother distracted by asking her to take a look around. "'Do you want to see the other rooms?' I asked her and said it was very big and 'bahut accha hai'."
That's when he dropped the big surprise and informed her that he purchased her dream home. "'Aap ka dimag kharab hai! Mujhe nahi chahiye itna bada ghar…' she scolded me," he said while smiling at the memory.