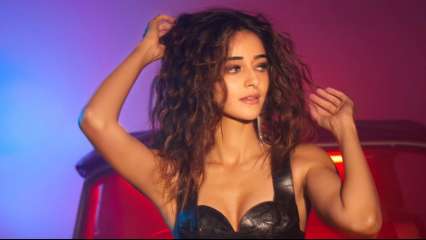 Ananya Panday is the most recent guest on Arbaaz Khan's conversation show, 'Pinch', in its second season. According to the show's trailers, during the fifth episode, Ananya will discuss how she manages social media comments and cyberbullying.
Both Salman Khan and Tiger Shroff have appeared on Arbaaz Khan's chat show in previous editions. According to the show's most recent teasers, a troll made a snide remark about Ananya Panday's accent. The young celebrity, on the other hand, had a peculiar response for the troll.
During the show, the celebrity is required to read aloud social media remarks directed at her  from a cue card and then respond to them. Ananya read a message in which a netizen mocked her accent, claiming that it made the troll's ears bleed. Ananya didn't waste any time in responding to the individual, adding, "I am so sorry. Aapke liye tissue bhejti hoon, main aapke liye tissue bhejti hoon." (I'll send you a tissue)
When Arbaaz pointed out someone had said, "Struggling didi ki jai ho," Ananya quipped "Aap mujhe struggling didi kyun bulati ho, that's so funny!"
Ananya's approach to dealing with trolls appears to be simple. She said, "If someone is so poisonous and angry, the only response should be love." Someone else called her artificial, 'Fake Panday' and Ananya replied, "You can call me everything else but not artificial. I am 100 per cent real."
One also asked her to tie the knot, she says that She says she doesn't have any plans right now and that she'll inquire again when she's 30. Someone another penned a limerick about her struugling and Ananya laughed saying, "I love it!"
Meanwhile, Ananya will star alongside Sidhanth Chaturvedi and Deepika Padukone in Shakun Batra's flick.
Deepika Padukone recently released a slew of behind-the-scenes images of Ananya, Sidhanth, Shakun, and the rest of the cast.