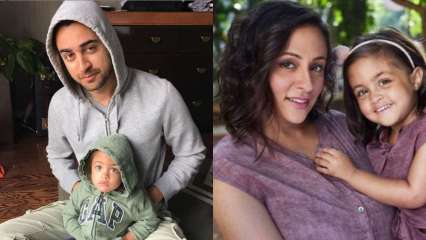 Days ago, former Bollywood star and superstar Aamir Khan's nephew Imran Khan's estranged wife Avantika Malik made headlines for sharing a cryptic post after the 'Dangal' actor announced separation from his producer-wife Kiran Rao. 
Aamir and Kiran, who has been married for 15 years, share a son Azad Rao Khan together. The couple, who issued a joint statement on Saturday making the announcement, revealed that they will continue to be co-parents for their son Azad.
Avantika's cryptic post grabbed the attention of online users in which she quoted writer Junot Diaz and his saying about not running away from one's problems. The note read, "But if these years have taught me anything it is this: You can never run away. Not ever. The only way out is in. – Junot Diaz." 
Now, on Thursday, Avantika has shared another eloquent verse, which talks about working towards what one wants to achieve bit by bit, 'day by day, inch by inch'. 
Whether it is to live in peace, want for love, a wish to be valued, or a desire to live ecstatically, the verse says, one must work on him/herself and achieve whatever one wishes to. 
Here's the entire verse as written by Victoria Erickson that Avantika Malik shared on her Instagram handle. "If you inherently long for something, become it first. If you want gardens, become the gardener. If you want love, embody love. If you want mental stimulation, change the conversation. If you want peace, exude calmness. If you want to fill your world with artists, begin to paint. If you want to be valued, respect your own time. If you want to live ecstatically, find the ecstasy within yourself. This is how to draw it in, day by day, inch by inch."
Earlier, Avantika had made headlines for posting 'serious truth bomb' on her social media handle, advising people to choose the things worth fighting for, wisely. In a post that talked about how hard marriage and divorce is, that reflected on the problems that arise due to obesity, being in debt, and more, Avantika tried to communicate that one should 'choose their hard' wisely given that life will 'never be easy'. 
Avantika's message on Instagram read, "Marriage is hard. Divorce is hard. Choose your hard. Obesity is hard. Being fit is hard. Choose your hard. Being in debt is hard. Being financially disciplined is hard. Choose your hard. Communication is hard. Not communicating is hard. Choose your hard. Life will never be easy. It will always be hard. But we can choose our hard. Pick wisely." 
In 2019, there were reports of Imran Khan and Avantika Malik's rock steady marriage hitting troubled waters and it was reported that the two were living separately. In 2020, Avantika posted a monochrome photo hinting at a patch up with her husband. While neither Imran nor Avantika have ever confirmed living separately or if they have patched up, the latter often shares cryptic posts, quotes, thoughts on life, love, and relationships on her social media and Imran has been missing from her Instagram feed altogether for some time now, hinting that there's trouble in paradise yet again!
Meanwhile, as for Imran's career in films, recently his friends, Akshay Oberoi and Abhinay Deo confirmed that he has quit acting while adding that he is eager to pursue direction.